A nice finish to the day. We went out to Playa Santispac, 13 mi south of Mulegé. It's the nearest beach on Bahía Concepción that's easily accessible from the highway (that is, not on a long, bumpy dirt road). We rode the bikes out to within a few yards of the water and alternated between swimming and reading. The water is very salty, which makes it almost trivial to float, and bathwater warm in the shallows, which go a long, long way at this beach. It took about ten minutes of slow walking to reach a point where the tops of some of the waves went over my head. There were maybe 20 people there when we arrived, and towards sunset, another group or two arrived, bringing the total up to maybe 40.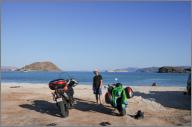 At some point, a truck full of fans pulled up and the driver started trying to find the right fan to replace the one from a Ford Focus station wagon that had been driving around with a load of sombreros, trying to sell them to beachgoers.
We rode back into town, and had a good dinner at our hotel. I'm finding that I really like the Carne Asada Tampiqueña.
We did end up pulling our bikes onto the patio.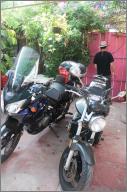 GPS Track: Day 7 70 mi