I got off to a leisurely start. I had lunch near home, and then left to pick up some last minute supplies before hitting the road. The rum turned out to be tricky. I tried hitting three places that were on my way before I gave up and headed over to BevMo (where I should have gone in the first place).
The detour meant that I happened to pass by the north part of Ocean Beach, near the Cliff House. There were weird things that looked like prayer flags hanging off of surfboards. When I came around the corner, I realized that they were two-dimensional Indians. I pulled over to get a closer look.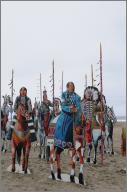 It turns out that Buffalo Bill Cody and his Wild West Show posed for a photo on Ocean Beach in 1902, spread out beneath the old Cliff House. An artist named Thom Ross recreated the photo with wooden figures.
It was fairly overcast along 35 until I hit the 280. After that, the weather was gorgeous. Sunny, warm. Perfect riding weather. I keep forgetting how pretty the roads are along that route. I used to ride there regularly, when I was trying to improve my riding skills. I should ride there more, just for fun.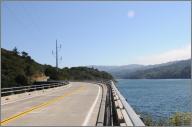 I got to the campground around 3:30, and had time to set up my tent and change out of my leathers before Melissa and Aaron arrived. We had time for a few beers before other people started arriving.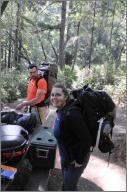 The evening passed pleasantly. It got a little cooler, but was still very mild, so we sat near the fire, having drinks (we finished the whole bottle of 12 year old rum, and almost finished a bottle of Irish Whiskey), and eating sausages and s'mores.
Jenny and I had been discussing whether a campfire gets hot enough to melt a beer bottle, so we had to do some Science to determine the answer.