In the morning, we had breakfast, and as he was walking to his car, Mike noticed that my rear tire was looking kind of flat. It turned out that I had picked up a screw somewhere along the way. I suspect it was one of the times I pulled over to take pictures. Mike happened to have an air compressor with him, so we pumped up the tire as much as we could (not much) and I headed back towards civilization. Jenny was kind enough to follow me in her car.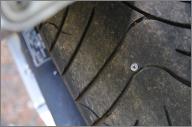 Getting a tire replacement turned out to be a pain. There don't seem to be a lot of motorcycle shops around the hills near Palo Alto. Once we got close enough to civilization to get good cell signal, I tried to find somewhere that could do the job quickly. Google Maps didn't show any places closer than Redwood City. Honda Peninsula offered me an appointment on 9/21. AAA gave me the numbers of some tire dealers, but they both turned out to be wrong numbers. 411 tried to give me the numbers of places in Bakersfield.
I ended up calling a racetrack, and the woman who answered was actually able to suggest a couple place in Sunnyvale who had a tire in stock and would install it in an hour. Jenny and I headed over there and dropped the bike off.
We did a little grocery shopping (the Sunnyvale BevMo only had the 5 year old rum, but it would have to do), and had lunch at a Mexican restaurant. The bike shop called back to tell me that the bike was ready just as we were leaving the restaurant.
We got back in time to go on a hike. Despite the fact that I warned everyone that the ranger had told me that the bridge was out, the party wanted to go to Tiptoe Falls and Iverson Cabin. Boy were they sorry when we had to ford the raging 3 inch creek on the way back!
The hiking whetted our appetite, which was a good thing, since everyone packed a lot of food. Highlights were pasta (strangely satisfying), and the dessert of peaches cooked in the coals in foil, with butter, brown sugar, and rum.
I spent most of the evening sitting with a hound in my lap.