I'm using my laptop in front of a roaring campfire. This seems a bit wrong, but I discovered yesterday that my GPS software's record of the first three days of my road trip somehow got corrupted, so now I'm making sure to transfer it from the GPS each day and make sure that it's backed up. And since the laptop is on for the backup, I might as well journal, right?
I was in Oregon until the mid-afternoon. I made a lengthy stop at the Columbia River Maritime Museum. I learned that the mouth of the Columbia is one of the worst places to sail in the world, with terrible weather, fickle currents, and shifting sand bars. There was a large exhibit about how the Coast Guard uses this area for foul-weather training. The museum also houses historical exhibits about the exploration of the area, fishing, and the steamboats that plied the river upstream. There was also an interesting temporary exhibit on (mostly nautical) tattoos. There's a retired lightship (a floating lighthouse, basically) docked at the museum as well.
Lunch was fish and chips served from a boat two blocks inland. Delicious.
The riding through Olympic National Forest and Olympic National Park was excellent. Roads in good condition. Plenty of curves. Reasonably high speed limits. Not too much traffic. It was a little overcast in the morning, but it cleared as I crossed the Columbia into Washington, and held beautifully.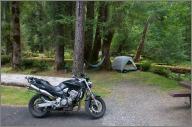 I arrived at Hoh River Rainforest Campground around 5:30, which meant that there was enough time to hang my new camping hammock (from Ticket To The Moon, in Ubud, Indonesia) and do some lounging after dinner. I had been contemplating mailing it back to myself, since I hadn't managed to find time to use it in my first few nights of camping, but I think I'll hang on to it for a while longer. It's comfortable, and packs smaller than a chair.

213mi in 5:13