When I left the hotel this morning, I thought I'd be in Washington tonight, possibly camping in the Olympic National Forest. I'm still in Oregon. What happened? Well, Tillamook turned out to be more interesting than expected.
The road from Portland to Tillamook was the best I've ridden yet this trip (OR-6). Lots of sweeping curves through forests and alongside meadows and farms.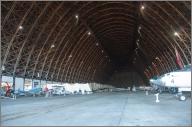 My first stop was the Tillamook Naval Air Museum. During WWII, the Navy used blimps to spot submarines (which operated shallowly at the time) and protect shipping. They built enormous hangars to house them (like the one at Moffett Field in Sunnyvale). There were a pair built in Tillamook, large enough to simultaneously house 9 K-class blimps, each substantially larger than the Goodyear blimp. Because metal was being used for ships and planes, the hangars were built out of wood. They couldn't have any internal supports, because they'd get in the way of the blimps' maneuvers. The result was an enormous vaulted space, the largest wooden building in the world without columns. There are some interesting airplanes stored in the hangar (taking up only a small fraction of the floorspace), and they're kept in flying condition (which means that there are drip trays all over to catch the oil that leaks out of the lubricated engines).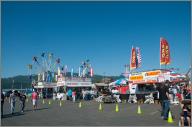 On my way through Tillamook, I discovered that the County Fair was going on, so I stopped in for some funnel cake. There were carnival rides, boardwalk games, an old-timey band (whose between-song patter seemed to consist entirely of jokes about how old they all are), livestock exhibitions, and a display of farming equipment. I don't think I'd ever been to a county fair before.

The displays at the Tillamook Cheese Factory were a little underwhelming. You can look down on the factory floor, but all I saw was cheese slicing. It was interesting to see the 20lb blocks get turned into the little logs that you get in the store, but I would have liked to see the earlier stages of cheese processing more.

It hadn't occurred to me that my favorite road trip snack is the nugget-style beef jerky from the Tillamook Country Smoker, and that, logically, that implies the existence of a factory outlet store in Tillamook. I may be set for a while for jerky.

I was fairly tired after all of this and decided to not try to go too much further. I stopped in the town of Seaside at a nice motel with a very friendly staff. I had dinner on the Seaside promenade, watching the sun go down and eating seafood. I think I have come to the conclusion that cooked oysters are a waste. They're delicious raw, but they seem like filler at best when they're cooked.

148mi in 5:15