I'm sitting, looking at the Sea of Cortez. A flock of pelicans just flew past, just on the other side of the hotel's balcony fence.
Our ride today was very short, just 50 mi from San Ignacio to here. It was blazingly hot again, as we passed through yet another stretch of desert, this one dusty instead of sandy or rocky. We got our first glimpse of the Sea shortly before rounding a corner a few miles up the road from Santa Rosalía.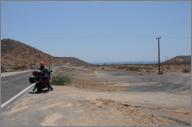 We did a quick cruise through town, determined that the traffic along the main avenues was terrible, and continued south along the highway to the mini-hotel recommended by the owner of the place we stayed at in San Ignacio. It turned out to be full, and the owner there was pretty negative about all of the other hotels in the area ("they're all old"), but told us that the next place down the road might have some room. Indeed they do, and while it does look like the place was designed in the 70s, everything seems to be functional.
After a dip in the pool, we rode back into town for lunch. I had a michelada with lunch, a mix of clamato and beer. It was surprisingly refreshing. We strolled around town, took a look at the prefab metal Eiffel-designed church, had some ice cream, and headed back to the hotel.
Even with the breeze off of the sea, it's really hot.
GPS Track: Day 6 48 mi