I did a test pack today. My permethrined clothes aren't quite dry yet (it's been raining for pretty much the whole time that I've been trying to line dry them), so I packed my cool-weather overclothes instead.
It took a few tries, but I ended up doing about as well as I could have hoped. I can pack everything I'm planning to take in my backpack without opening the expansion compartment, including my daypack, but not my camera bag. I could pack the camera bag if I ditched almost all of the books, or put them in the expansion compartment. But I think carrying the camera bag separately is probably for the best.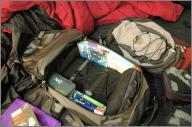 It's good to know that I can do this, but this isn't actually the load-out that I'm going to start with. I'm going to have to check a bag for TSA reasons, so the daypack will be outside of the main pack for that stretch. Because I'd rather not be separated from my clothes, I think the daypack is the item that'll get checked. It'll also have some Larabars for Jessica in it.
I spent a while trying to adjust my pack straps. It turns out that there's an adjustment that I had never noticed before (the point where the load hangers attach to the shoulder straps can be moved. Who knew?), and it was wildly different on the left and right sides. Fixing that improved the fit quite a bit.
I think the only thing left that I need to buy is a notebook. I didn't like the ones at the drugstore, so I think I'll stop at Flax and get a nice one.