Bahman gave Mona and me a ride to the airport and we discussed strategies for sleeping on planes or sleeping before getting on planes. I opined that it was a wash. No matter what I do, the day of arrival is spent recovering from the travel.
We therefore had only two goals for today: pick up our rental car at the airport and get to our hotel. Our day was a success before noon!
The flight was exhausting, of course. I think we ended up having less than six hours of airtime, which is not nearly a full night's sleep in the best of conditions, which these were not. We were in an emergency exit row, which is normally a good thing (extra leg room!), but on this Airbus 320 turned out to be a problem because they have two exit rows in a row. We were in the front row of the pair, which meant that our seats did not recline. Ugh.
We accidentally exited the secure area of the airport without seeing that all of the car rental places were inside. Oops. With the help of a car rental agent, I got grudging permission to re-enter from the security guard. However, Mona had to wait outside.
It turns out that the rate I was quoted on Budget's website was not remotely what they actually wanted to charge me. They'd neglected to mention the mandatory insurance that made the bill almost triple what they quoted. I told her I'd have to shop around, and eventually settled on Alamo/National, who were only asking double what I'd expected.
Mona drove us to San Salvador along RN 5S, which turned out to be a pretty tree-lined divided highway. The trip was slowed down by a few roadblocks. In a couple cases, it was just the police narrowing the road to one zig-zag with cones, but not actually stopping traffic.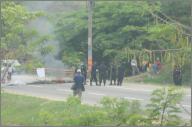 The other roadblock consisted of a rope tied across the roadway with signs on it, and a row of tires on fire. The signs were not clear enough for us to figure out what they were protesting (?). The traffic on the other side of the divided highway had been suspiciously going in the wrong direction (that is, in ours) for a kilometer or so, and when we saw the roadblock, we realized why. We made a U-turn on the highway, returned to the last turnaround, and followed the rest of the traffic going the wrong way.
I'm glad there was a picture of our hotel on their website. San Salvador goes by surprisingly quickly, and it would have been easy to miss, if I hadn't recognized it.
We decided that we were too hungry to sleep, and had lunch at Automariscos, a restaurant across the street. We had some delicious shish kebabs, and assorted small plates (you get one free with each beer). Handily, they had wifi there, so we could try to translate the parts of the menu that didn't appear in the phrasebook. Still lots of mysteries, though.