A day of minor problems, but great overall. Our plan was to rent some bicycles and ride to the ruins in the afternoon, but our hotel only had one bike for rent. We took a tuk tuk to the central market, hoping to rent some there, but we didn't find any rental places. We did, however, find a purse for Jessica.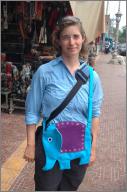 The sky had an ominous look. We noticed a few raindrops, so we ducked in for breakfast at the Café de la Paix, a sleek hotel cafe offering free wireless and fresh guava juice. Just in time. We narrowly avoided a downpour.
The sky cleared after about half an hour and we set out again. We ended up going back to the Two Dragons and renting a couple mountain bikes from them. Perhaps we should have asked for the non-mountain bikes instead. We had trouble getting Jessica's bike to stay in a gear, and mine wasn't in good shape either.
We biked back to our hotel and decided that it was unpleasant enough on these bikes that we'd rather hire a tuk tuk driver instead. We returned the bikes. None of the Two Dragons drivers were around, so for once we accepted the "Hello! You need tuk tuk? Drive you to temples!" from a random driver.
Since we knew where we were going, it worked out mostly fine. We started at Preah Khan, which had a lot of beautiful views in the slanting afternoon light. Then we rode the tuk tuk into Angkor Thom, and walked first to the Elephant Terrace, which had some great carvings, briefly to the Bapuon, which was closed for restoration, then to the Bayon.
The Bayon was amazing. Densely packed buildings, with a labyrinth-like structure as you make your way in and up to the summit, with giant carved faces on each side of the towers. We hung around there enjoying the views and the breezes until nearly sunset. Then we hit our one language snag.
We'd asked the driver to drop us off at the Elephant Terrace and meet us at the south side of the Bayon. When we got there, he wasn't in the parking lot. After a bit of searching, we found him on the north side of the Bayon instead.
We climbed up Phnom Bakheng to watch the sunset... along with every other visitor to the temples that day, it seemed. We got to the top too late to see the last rays on Angkor Wat, but got some nice views of the sun as it disappeared into the haze.
Bayon beer: Was this a lite beer? Lots of carbonation, little flavor.
Winter Melon Tea: There doesn't seem to be any actual tea in this, but it's pretty refreshing. Almost taro-like flavor.